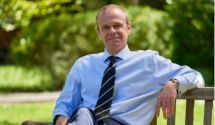 Bishop Wordsworth's School was founded in 1890 by John Wordsworth, Bishop of Salisbury. When he established the school his intention was that it should be a centre for education right at the very heart of Salisbury, in what is probably the most beautiful Cathedral Close in Europe.
When the school was founded it had just 40 boys. Now we have grown somewhat; there are over 1100 students here, with girls as well as boys in our large, thriving Sixth Form. Students come to us from a very wide geographical area, drawn by the prospect of high quality teaching, individual mentoring and pastoral support, a superb learning environment and an astonishing array of opportunities beyond lessons. We provide a regional centre of excellence - for academic endeavour, for music, for sport, for the arts and for adventurous activities - for young people to study the subjects that they love, follow the interests that they have and discover new enthusiasms too. Diversity and quality are common currencies here.
The school has remained true to its founder's traditions by following three basic aims:
To encourage all our pupils to develop their potential to the full by setting themselves the highest standards of excellence and achievement;
To develop in all our pupils the integrity and the means to face confidently the challenges of a fast-changing world;
To inspire all our pupils to lead happy, purposeful and responsible lives.
Academic standards are very high and are duly recognized as such by OfSTED, DfE and the media, but excellence permeates all other areas of school life. School Sport is exceptionally strong, and the traditions in Music and Performing Arts are impressive. The school is characterised by a culture of challenging every student to do their best while, at the same time, offering them the support that they need to do really well. Older students take leadership responsibilities and operate as role models and mentors for those in lower years. We place great importance on delivering an all-round education for all of our boys and girls.
Bishop's enjoys an incomparable environment in the shadow of the highest cathedral spire in England, and many major school events take place in the Cathedral during the school year. Facilities for learning and teaching are already excellent, and further development of the school site continues.
Our promise to you is that if you join us, aim high and are prepared to work hard, we will support you to realise your ambitions. Every year the vast majority of our Year 13 students leave Bishop's to join courses at the most competitive universities in the UK and across the World. Our alumni become prominent in their fields - scientists, politicians, entrepreneurs, sportsmen and women, artists, musicians, authors, linguists, clerics, soldiers and academics. If you are looking for a place where you can focus on your academic studies at a high level, have a lot of fun with like-minded people while you do so and develop your own capacity for leadership then Bishop's is the place for you.
This school website is a window then through which you can see what is possible. Come and visit us, and take a tour around the site accompanied by some of the inspirational young men and women of our sixth form. I can promise you a warm welcome and an exciting prospect of things yet to come.
Dr Stuart Smallwood